.
Aug - 2013
Interview in Slanted Magazine #22
→ Wolfgang Wick of Buero MAGENTA conducted this interview for Slanted magazine by email in the summer of 2013. This issue runs under the title Art Type and presents international artists who examine type and language in their work. Featured are also a number of essays and interviews that focus on the intersection of art, design and typography.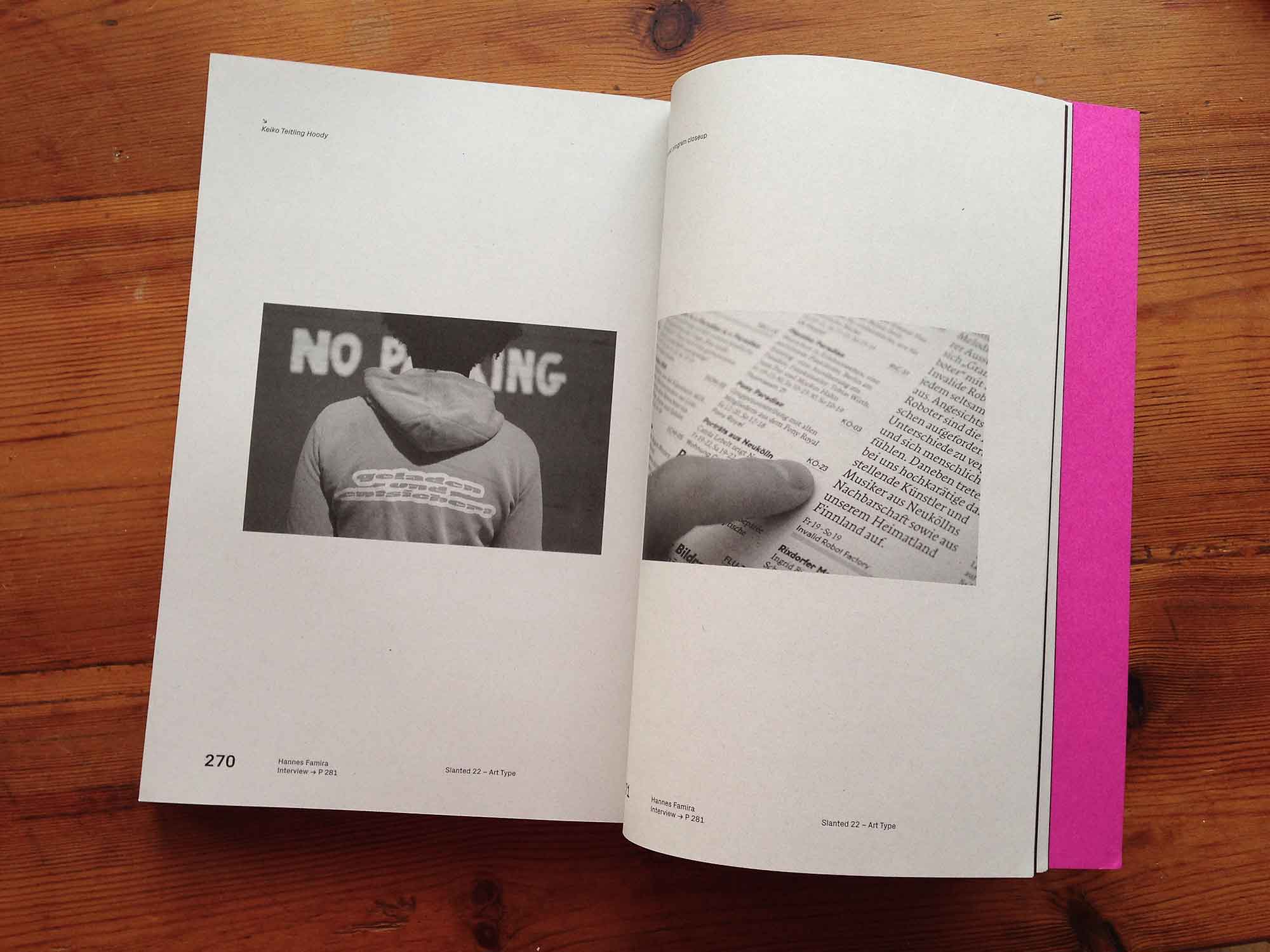 Update (Nov. 17, 2019)
This backissue is available directly from Slanted:
https://www.slanted.de/en/product/slanted-22-art-type-pre-order/
Why did you become a type designer

Yes, it's funny how this works. Sometimes there is just a small pebble on the tracks that will steer the entire train in a different direction. One of my best friends since junior high is the son of Hansjörg Stulle, one of the premier typographers in Stuttgart at the time. So I got to peek at specimen books, see typesetters with lamb chop side burns, wide neck ties and these short sleeve, button down dress shirts crank it out on Berthold workstations. When I did an internship in Hansjörg's shop right after school, I was able to get my hands dirty and that's how I caught the bug. Then in 1989 in Berlin I met Just van Rossum and Erik van Blokland, who had just graduated from the KABK and were very young, very smart and lanky Dutch interns at Meta Design, which at the time consisted of only three or four designers. Just and Erik went by the name of Letterror and were just about to explode into fame with their random typefaces, low-res animations and a completely fresh way to think about design. I just knew immediately that I needed to move to the Netherlands and study at the KABK. The rest, as they say is history.

Are you currently working on a new typeface?

I always have a bunch of typefaces in the oven. Right now I am putting finishing touches on Sonar-Slab, Arouet and Keiko Text. Each of these type families have been in the making well over 10 years and I am hoping to release at least two of them by the end of the year.

I feel that currently new typefaces tend to be retro and have a quality of illustration work, like those of House Industries…

I know what you mean but I am not sure retro is a label I would feel entirely comfortable with. In my mind it is an essential characteristic of our post modernist times that instead of an Avant-garde leading the way, we are now doomed to feeding off historical precedent in order to create new things. And that is exactly what is happening right now. Young designers are completely uninhibited about taking stylistic clues from past design eras while creating something fresh and unique. I am tremendously enjoying this kind of lustful, gregarious sampling.

A couple of years ago in Basel you told me that Gerrit Noordzij's «The Stroke of the Pen» is a seminal work for type designers. Is Noordzij still relevant?

Certainly, if I had to recommend one single book to explain type, this would be it. Noordzij seems like a lovely man who will just stubbornly insist on using his own head. He has given a singular impulse to design. In my mind the impact of his thinking is on the same level as the proliferation of the PC. Without these two events we would not have the rich biotope of young, independent type designers completely reinventing an entire industry.

What role does your handwriting and sketching play in the development of your typefaces.

I am borderline dyslexic. In grade school learning how to write was a nightmare and I never developed penmanship beyond, say third grade level. It is embarrassing. You can imagine how my mind was blown when I was able to print the first words in my own typeface. Type design has finally enabled me to make my language look the way that I feel as a person.

I also really love sketching. I find drawing to be the most direct way to have a conversation about type — with yourself or with each other. Unfortunately I don't get to practice this a lot outside of the classroom.

Programming allows for many alternates of a single letter to be included in a font in order to «liven up» typography. How do you feel about these typographic effects?

It seems like type technology is finally approaching the level of sophistication that was available to Gutenberg. Having alternate letterforms at your disposal is something that has not really been broadly available since photo type. OpenType technology is slowly catching up though.

There is a downside of this development. Greenhorn type designers sometimes get lazy and just throw in every single alternate letter shape, which maybe should have just fallen victim to a critical design process. Making painful decisions is part of editing a typeface and old-school typographers sometimes get intimidated by the amount of choice they get with modern typefaces.

You have been teaching type design at the Cooper Union in New York since 2006. I guess in Manhattan many type designers want to work like Ken Barber or Louise Fili. Do you demonstrate for them how Louise illustrates her lettering for advertisement, kind of like «learning on location»?

Our students are not necessarily from New York City. They come from around the globe to take this class and learn how to draw type. Ken and I actually teach in the same program called Type@Cooper. He is an old friend and a super designer. I try hard to not limit my student's range of expression. Type should be fun! But I do see myself more as a bread and butter type design teacher, focusing on simple, legible text typefaces. New York has a wealth of resources in that field too. We take the students to the rare books collections at Columbia University's Butler Library, to the Grolier Club and the New York Public Library. The curators are just so patient, kind and knowledgeable and they really make a difference for the students. We get to see and actually touch original books from such print shops as Plantin-Moretus, the Imprimerie Royale and the Officina Bodoni.

New York City is a hub for big business – but at the same time a place of tremendous individual typographic illustration work for restaurants and shops. Where should one turn when visiting the city?

New York is held together by duct tape, hope and attitude which is why there is still a ton of wonderful old stuff to enjoy. The Type Directors Club organizes these type walks with Paul Shaw. This might be a really great start to get a feeling which neighborhoods have what kind of lettering to offer. It is so sad that in Germany this kind of vernacular has largely been replaced by plastic and Helvetica. Germany has a very difficult relationship to its own history and much of the architectural beauty was leveled in the 1970's and 80's.

Why do you think there are so few female type designers?

I actually think that this is a misconception. It might be a relatively recent development, but the classes I teach usually have gender parity. Of the type designers I know personally, I would say that there are roughly as many women as men. I have met some very impressive type designers at the studios that I have worked with: Sara Soskolne, Martina Flor, Julia Sysmäläinen, Aleksandra Samulenkova, Melle Diete, Christine Gertsch, Lara Captan, Jessica Hische, Elena Albertoni, Elizabeth Holzman, Jill Pichotta and then there is Verena Gerlach, who has actually written on this topic… These are just off the top of my head some of the female professionals I know personally, in no particular order. But of course there are lots more. The interesting question to me is: "why are many female type designers not as visible as their male counterparts as speakers at conferences or in publications?" I feel that this might be the tail end of pretty heavy gender discrimination of the 20th century. But I am confident that right now there is a new generation of women and men who are putting an end to this.

Do you consider yourself a post-modern type designer?

Absolutely, I am a child of my time, inspired by writing, lettering and type throughout history and I love what is going on in my field at the moment. The young designers are breathing beauty into our dusty, 600 year old profession and they come packing craftsmanship and skills. We are witnessing great times.

The debate around postmodern vs. modern design is over. Nowadays everything seems to go. So what would you say is the mark of a good font?

Oh, that really depends on the intended typographic application. What works perfectly for one context might be disastrous for the next. While there absolutely is good or poor craftsmanship as well as a tasteful or unfortunate sense of style, I do not believe that there is such a thing as bad type design, only bad typography. Sometimes that fuggly old curmudgeon of a display font is exactly the typeface your design is gagging for. I am personally fascinated by intersections: What does a historic concept look like when it gets dressed up in an outfit from the year 2013? How can the calligraphic tool inform my letter shapes without making them look like swashy greeting card type? How hip may a text face strut and still possess the calm that an undisturbed reading experience demands?

Do you have a favorite typeface?

I really am always in love with my current projects. I mostly develop type independently and release it through my own foundry, the Kombinat-Typefounders. When you choose your own constrains and function as your own client there is a real element of self realization and that creates a powerful emotional bond. So, check out my upcoming typeface Arouet. It is a humanist text face named after Voltaire and while it has only three optical weights it will come in four widths with two sets of differently sized extenders for real expert book typography. With this project I am going after the sort of quiet beauty that can sometimes make a text face a sensual pleasure to read.

Update (Nov. 17, 2019)
This backissue is available directly from Slanted:
https://www.slanted.de/en/product/slanted-22-art-type-pre-order/
Update (Dec. 7, 2013)
One of the questions in the interview addresses the gender situation in type design. To follow up, here are some URLs to the web presence of the female designers mentioned:
Elena Albertoni
is one of the driving forces behind
MAKE! Skilled Hands
(like them on
Facebook
) which is promising to become a much needed center for lettering, type design and calligraphy education in Berlin. She also runs
Letter in Berlin
together with Fritz Grögel. Then there are Aleksandra Samulenkova,
Sara Soskolne
(find her on
twitter
),
Martina Flor,
who together with Guiseppe Salerno is running
Lettering vs. Calligraphy
.
Julia Sysmäläinen,
Melle Diete,
Christine Gertsch,
Lara Captan,
Jessica Hische,
Elizabeth Holzman,
Jill Pichotta
and
Verena Gerlach,
who actually wrote a piece for Typographica called
Where Are the Women in Type Design?
For further study of the adjacent topic of Feminism and Graphic Design one might also want to pick up
Slanted Magazine issue #12
.
Update (Apr. 10, 2014)
More great designers of the female persuasion here on designworklife.com:
Badass Lady Creatives: 6 Type Designers