.
May - 2014
Resources for getting started with Robofont
→ When getting started working with the type design application Robofont I recommend to check out the links and downloads that I compiled below. This is a list that I prepared for my students but I think anyone new to Robofont might find some of these basic pointers useful. Please don't hesitate to suggest changes or additions. And now have fun…
Jump to any of the topics below
Software
Robofont
The first step would be to download the application and copy it into your application folder. A free 30 day evaluation copy can be found here: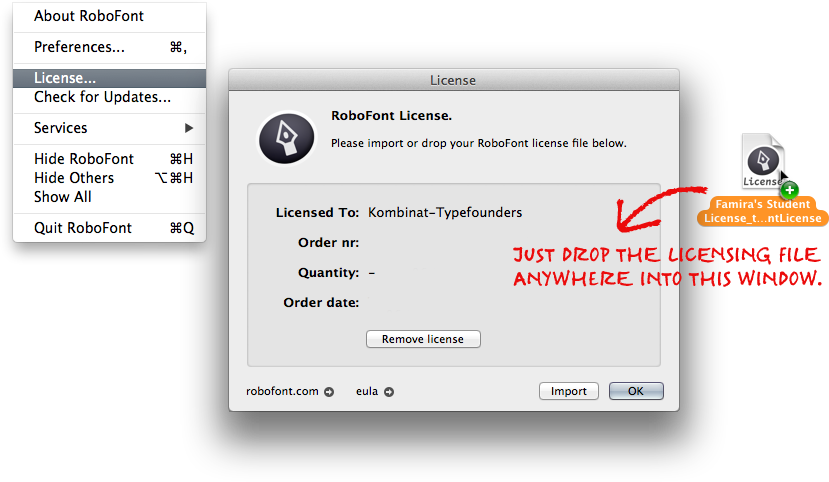 unzip the license file and keep it handy
start Robofont
in Robofont select from the menu bar the menu called

Robofont

choose the menu item

License…

drag and drop the unzipped license document onto the

Robofont License

window
This should complete the activation of your copy of Robofont.
Preferences
Here
are my own preferences; this is how I like to work. I think this is a good starting point but please change whatever you feel makes best sense for you. Robofont is giving the user an unprecedented amount of options to personalize the user experience. Download, unzip and import:
online documentation
on the Robofont website.
Robofont Extensions
Then there are a number of extensions and plug-ins that I highly recommend. First and foremost is the Mechanic extension by Jack Jennings:
Adjust Metrics
Arrange Windows
Add Overlap
Batch
DesignSpace Editor
Feature Preview
Glyph Construction
Rotator
Scaling Edit Tool
Shape Tool
Suffixer
Touché
Outliner
Underline Strikethrough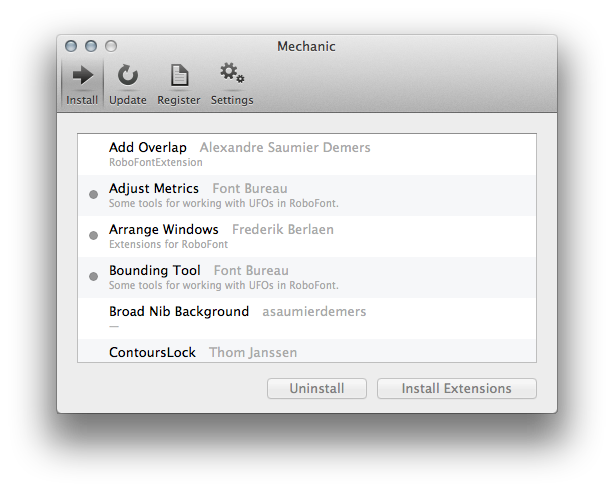 Additionally I am using one custom made Python script, graciously made available to us by
Frederik Berlaen.
You can download it here:
Library / Application Support / Robofont / Scripts
James Edmondson has a Tumbler where he keeps track of the coolest Robofont Extensions:
Manuals
Documentation
Some things just need to be watched or read once to clear things up. Others are handy to refer back to. The Robofont website has a pretty easy to understand and quite complete online manual. This is a good starting point:
Vimeo
There are also a number of videos on the Vimeo website, demonstrating single steps in the workflow:
Using the Transform Box
With different modifier keys the transform box allows different actions. Those I have found handy to check back with every now and then. Find a list here:
Modifier Keys for Drafting
Robofont has numerous modifier keys that make advanced outline drawing and editing possible. Download a cheat sheet in PDF format:
Trouble shooting
If something goes horribly wrong there is a forum:
Starting points for your project
Scan
If you don't have a scan of your own drawings handy please feel free to use these (they were the first sketches for my typeface
Arouet
). The quality is quite terrible but you will see why this is actually a good thing:
FontLab document
If you are a recent convert, switching from FontLab use this Python script to export your VFB source file in UFO format. It is called "UFO-Central" and can be downloaded for free here:
Library / Application Support / FontLab / Studio 5 / Macros
Then restart FontLab and select UFO-Central from the Scripts or Macro menu.
References for advanced trickery
OpenType layout features
If you want to learn how to write OT Features I can't recommend enough Andy Clymer's
Font Production Workshop
at the Type@Cooper Program. If you want to give it a try by yourself here are two reference pages on the Adobe website:
Interpolation calculator
When you have a Bold and a Light master there are several ways to calculate in-between steps for say, Book, Medium and SemiBold styles. There are a number of online calculators:
Letter and word frequency in the English language
Third party applications
Robofont likes company
These programs are designed to work particularly well in concert with Robofont. Once they are installed Robofont will become aware of them and offer round-trip editing from the font window's tool bar. They are specialized on discreet tasks for a truly pro-level workflow:
Utilities
For font testing I recommend to just completely abandon all aspirations to use any font management software (such as FontExplorer, Suitcase or even Apple's own FontBook) and just use Robofont's TestInstall feature. Make the system's Fonts folder the location where you place fonts that you want to install permanently. If in spite of sticking to this scheme you still find yourself in a font caching pickle Font Nuke has proven extremely handy for erasing really just every single last font cache on the Mac. You can download it here: